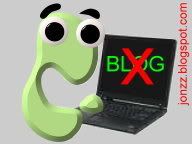 6.00am. Still dark outside. Hmm... is this a working day? Oh, it's still a Raya holiday. Hmm... can't get back to sleep. What to do? .... trudge... trudge... reads some blogs... dumps some comments... 'party' in some cboxes... back to own blog... what to write today...
NUTS! I'm addicted to this.... *Sigh*
It's so easy to point a finger and criticize when it comes to addictions like smoking, gambling, drinking or pornography. Personally, I think we are always 'addicted' to something at any particular point of our lives - computer games, hanging out, gossipping, television or even work. It's just that some are more harmful than others.
Sigh, I need to cut down on this and read more. But then I'll probably get more blogging fodder... Arghh!!! where's the number for Bloggers Anonymous???
P.S. Sorry
ian
, for the
overdose of comments
in your blog yesterday... guess I got a bit carried away since it was a boring holiday.