Last Saturday, I went to Ulu Bendol with
Jimbo
and a whole bunch of young (and mostly single) adults from my church. They wanted to hike up
Gunung Angsi
.
I didn't. Too lazy and too much excess baggage. I was waiting at the bottom for two people who just wanted to make a half trip and come down during lunch. I was their Transport Department. You can read and view photos about their
exciting hike up Gunung Angsi in Jimbo's blog
. It's a 3-4 hour hike one way and can be quite a challenge to hiking enthusiasts who want to warm up for Gunung Kinabalu.
Ulu Bendol is a very beautiful place and suitable for nature lovers. It's only about 30 minutes drive from Seremban going towards Kuala Pilah. There's a stretch of winding roads but the roads have been noticeably widened so car sickness is not an issue when I went there. There are plenty of facilities there for camping, family days and other recreational facilities. Even in the blazing afternoon sun, the forest and foliage really cools down the environment. Of course, you can hike up
Gunung Angsi
.
OK, I'm lazy to do a National Geographic article so I'll just post some photos with lame captions (
In case you don't know, you can still click on the photos to enlarge them
)
A plaque about Ulu Bendol
Lush greenery seen even from the car park
Rocks and streams
More rocks and stream( and that plaque)
Picturesque Boulders
Looking into the stream
Turtle rock?
Stream-powered swimming pool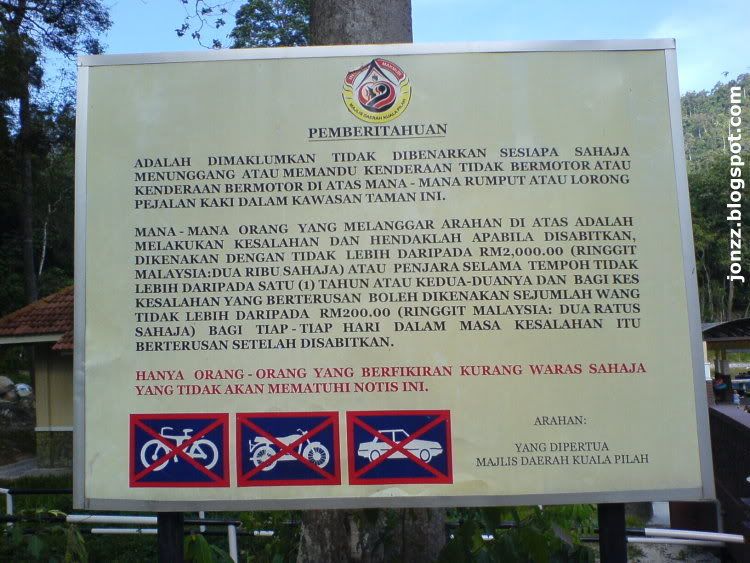 An interesting notice (Click to enlarge)
This notice caught my eye. The words in red say '

Hanya orang-orang yang berfikiran kurang waras sahaja yang tidak akan mematuhi notis ini

'. It means 'Only people who are mentally challenged will not obey this notice'. Wow, can you beat that! I like it.