Finally, I made the long postponed trip to Melaka last Saturday.

I met up with bibiknyonya to do a photography shoot. We decided to go to Melaka's crocodile farm which was ironically just opposite the Melaka zoo. I thought it was better to target one animal instead running around, trying to get the whole jungle on digital film. (So National Geographic-ish, eh)

The entry fee was RM5 which probably contributed a measly chunk towards their daily protein diet.

I have a confession. I had a misconception about the crocodile farm.

I mean when you hear the word 'zoo', you normally visualize animals which are protected, well-fed and displayed to the public. When I hear the word 'farm', I'd expect animals being bred for their meat, meet and skin. Sadly, no crocodile skin keychains, products or hotpot here. Not even fake crocodile trinkets. LOL!

I did learn some interesting things about these living logs after observing them for about two hours. What I don't understand is why none of the crocodile enclosures were labeled. I guess this place is not about education. Anyway, here are some pictures and observations for your viewing pleasure:



Crocodile had at least more than one layer covering their eyes. Looks really yucky. I think this transparent layer which goes sideways is for their underwater vision... or just spooking out their fellow crocs in the middle of the night. BOO!!! SNAP!!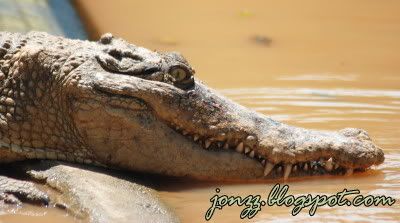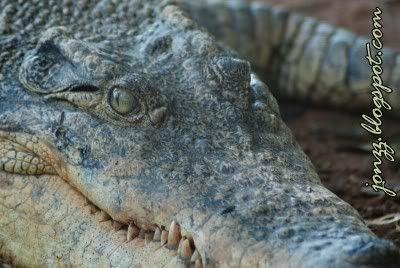 Crocodiles appear to be the most laziest, inactive creatures in the world but let me assure you, they are no slackers. They have their eyes on you all the time. Don't believe me? Let me prove it to you. Look at the next picture.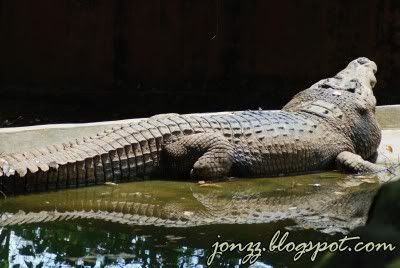 Mmmmmm, Mud Bath....
In this next enclosure, we came across this really humongous reptile which was apparently having a delightful moment in the sun. Look at that blissful expression!
No wonder people use the Malay expression, "

Don't be a buaya

" for lazy slackers. (*It means, Don't be a crocodile)
If someone calls a guy 'buaya' or Crocodile in Malay, it means you're a womanizer.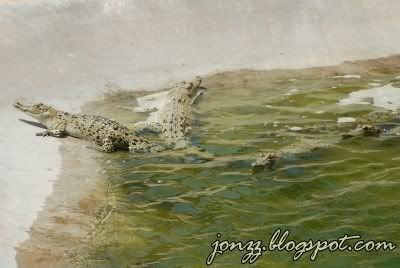 No animal photoshoot is complete without the kids. Here are picture of tiny lizard-like crocodiles having their kindergarten training in the baby pool. Aren't they absolutely cute?
MEET CROC-ZILLA!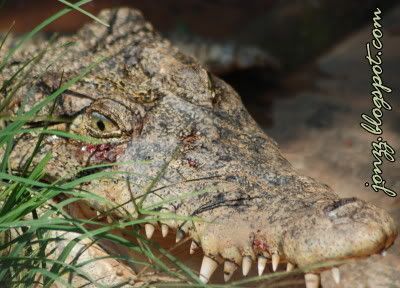 MEET PSYCHO CROC!
OK, OK, you win. Crocodiles are anything but cute. They are just plain evil looking and menacing.
Maybe it's an escapee from the Resident Evil movie.