I don't know about you but sometimes I feel just words and statistics make a blog post very sterile and impersonal especially in point form. Which is why you need photos! (Yeah, another lame excuse to show pictures!)

A lot of things have happened over the past two weeks, some good and others, not so good...


There were three funerals related to church members... a friend got his handphone snatched while walking (Careful! Crime rates are rising) ... a friend's parents' home got flooded again... a friend's car broke down in the middle of town, causing a jam...

Sounds just like snippets off the front page news...

And then this...
Here's what termites look like up close.....
It was a first time seeing a termite infestation. Someone asked me to take photographs for records and boy, was I freaked out. Even felt like throwing up. No parquet flooring for me, man!
On a brighter front, I went to a new place with my company for a picnic to another quaint beach in Bagan Lallang which is in the Sepang area.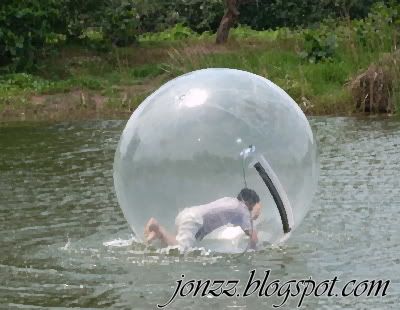 A crazy game called Water Ball
For those of you who want to relate to your pet hamsters, this is just the game for you. Watching the antics of students trying to move the air filled ball across the pond was both funny and agonizing. It's a trial of limited air supply and wind resistance. Some couldn't even move forward.
There were games of archery but that's just boring stuff. (Ha ha!)

Then we had lunch at Tanjung Sepat nearby. This quaint place has a mushroom farm and a fishball factory (Which I didn't go to, hence the lack of pictures, *snigger*)
OK, enough outdoor reporting. On the homefront, things have been rather productive. No, I'm not having children!