I like Thai food. Well, maybe I just get a kick out of eating their sour, spicy and sweet stuff.

When I worked in KL, we were spoilt for choices when it comes to Thai restaurants but now that I'm in Seremban, there are hardly any decent ones around. Those Tom Yam restaurants just don't cut it.

Anyway, recently, a tiny little shop has opened near my place but we were reluctant to try it.

Tonight out of sheer boredom, me and Duzhai decided to give this place a chance. I think the name is 'On Sweet Thai food' or something. These were the items we ordered:



This is a desert called Thai sago (RM 1.50). I think it contains corn, coconut milk and sago(duh!) For a desert that was sweet, it had a salty side to it (I don't think it was spoiled). Strangely enough, after I had my spicy Thai Chicken Fried Rice, it nullified the salty taste of this desert. Maybe that's the trick.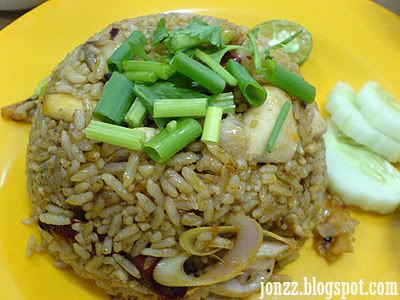 This was my Thai Chicken Fried Rice(RM4.00). Spicy and full of chicken and lemon grass and Thai herbs. It was quite good. Made me sweat like a pig, as good Tom Yam does, ha ha (as if I'm an expert)



This dish was name Yum Squids(RM5.00). Silly name, in my opinion. Very sour for a squid dish. I think I'll give it a pass next time.



Duzhai ordered this Thai Style Kuey Teow(RM4.00) or 'ladna' according to the owner. It's not a spicy dish but was quite delicious. It was loaded with lots of vegetables - cabbage, broccoli, caultiflower, sawi and etc. It also had prawns and squid. Only problem was Duzhai hates vegetables. You should see the amount of vegetables remaining at the bottom.



For drinks, we ordered this Chrysanthemum with Ginseng Tea(RM1.00). Personally I think they are trying to offset their reasonable food prices with costly drinks. Can you imagine 50 cents for a glass of chinese tea, and 40cents for plain water?!



After we ate everything, the owner came to 'seduce' us with Thai satay(50 cents per steak). They had pork and chicken satay which tasted quite different from our normal satay but delicious. (Embarassing to say, I couldn't tell the difference between the chicken and the pork) They came with short sticks which made them look smaller than they are worth.

All in all, it was a pretty satisfactory dinner. Well something different from our normal foods. We chatted with the owner and turns out she is half Thai, the father is Chinese.

Well, hopefully their quality and selection improves and the price stays the same. He he he!